Travala.com Integrates $FUN As Payment Method
FUN Token made a foray into the travel industry last week as popular travel booking platform Travala.com announced the integration of $FUN as a payment method on its website.
Through this integration, FUN Token users can book over 2.2 million hotels and homes, 600+ airlines, and 40,000+ activities in more than 230 countries. This development allows FUN Token to expand its use case even further, exposing $FUN to a whole new audience.
"This literally opens a new world of fun for FUNToken holders. And as arguably travel a gamble in these Covid days–haha–we're pleased to bring this new utility to the Token. Now you can book your flights to Vegas, Macau or Monaco with FUN," said Adriaan Brink, CEO of FUN Token.
BTC Set to Move Higher As "Golden Cross" Forms on Daily Chart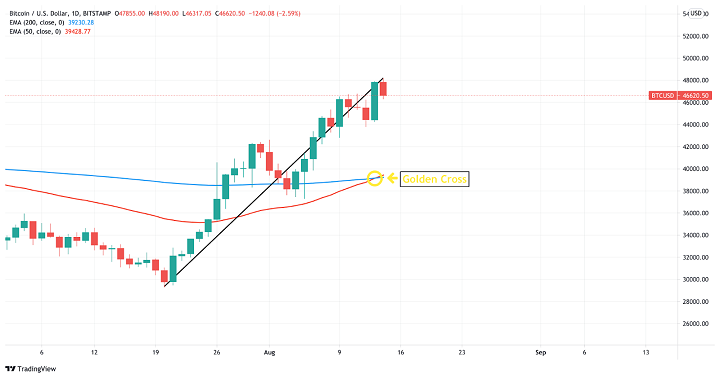 Last week, BTC hit a three-month high as the king of crypto's powerful surge continued beyond the important $47,000 mark. The signals are all bullish – two weeks ago, BTC crossed the 200-day EMA, took support on the same, and is now trading well beyond the historically bullish marker.
Furthermore, the "Golden Cross" – a bullish crossover of the 50-day EMA and the 200-day EMA – was finally achieved on Saturday, 14th August. PlanB's stock-to-flow model received criticism in the last couple of months as BTC dipped to $29,000, however, it has since bounced back in exciting fashion. Now, according to the stock-to-flow model, the worst case scenario BTC could achieve is $135,000, by the end of the year.
Another bullish metric is the realized cap – Bitcoin's market cap based on the price at which each coin last moved. This metric reached an all-time high of $378 million last week, indicating that there's more money in the Bitcoin network now than there was at $64,000.
ETH Crosses $3,300 As London Hard Fork Update Gathers Steam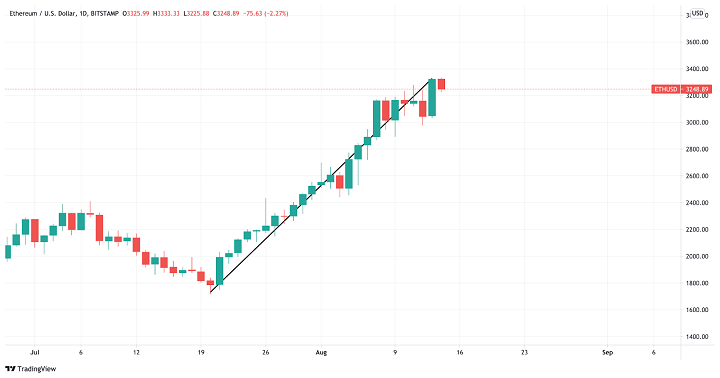 A confluence of factors in the last couple of weeks have been responsible for Ether's rise above $3,200. First, Bitcoin's overt bullishness has taken the market along for the ride. Second, Ethereum's London hard fork is proving to be successful as 6.9 million ETH have already been staked leading up to the hotly anticipated ETH 2.0.
Last week's options expiry data also provided encouragement – of the $430 million in contracts that expired last Friday, only 7% of the neutral-to-bearish put options were available above the $3,200 level. This shows that the bulls are in control and that ETH is preparing to make the journey upwards with BTC.
Cardano Finalizes Date for Alonzo Upgrade As ADA Crosses $2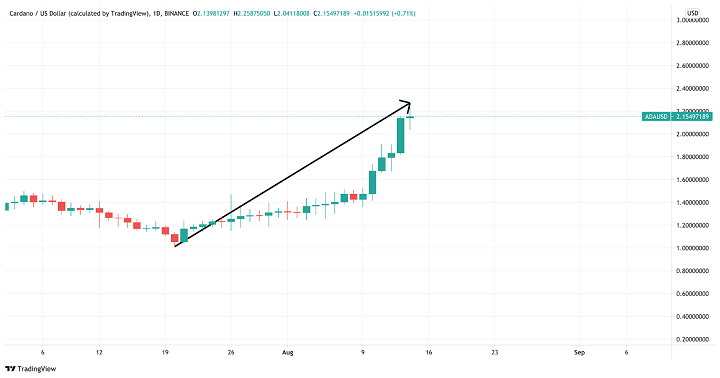 Cardano's smart contracts hard fork "Alonzo" went "Purple" yesterday as the team behind the blockchain, IOHK, unveiled a public testnet for the upgrade. Smart contracts will be fully functional on this testnet. Furthermore, Cardano's team announced that they're targeting 12th September for smart contracts to go live on the network.
This saw ADA erase the losses of the last 3 months and move beyond the $2 mark last week as traders and investors don't want to miss out on the massive potential in the project.
Crypto News Weekly Roundup:
Over Half of the Top 100 Banks in the World Are Invested in Blockchain and Crypto Tech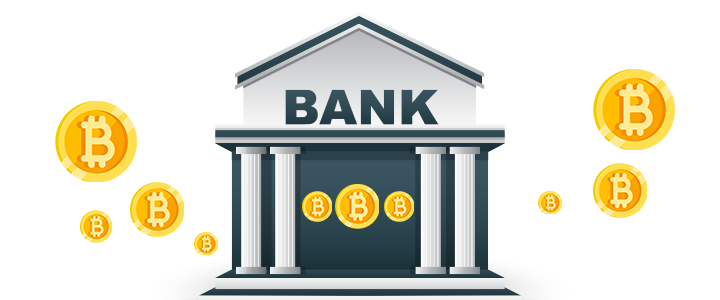 Institutional positivity continued to trickle in as BTC crossed the $47,000 mark for the first time in months. According to research by Blockdata, 55 of the world's top 100 banks by assets under management are invested in projects and companies involved with cryptocurrency and blockchain tech.
Among these banks, Barclays, Citigroup, and Goldman Sachs are some of the heaviest and most active backers of crypto and blockchain firms. This news comes after JP Morgan was revealed to have offered its clients access to six crypto funds over the past three weeks.
Crypto Market Cap Reaches $2 Trillion for the First Time Since May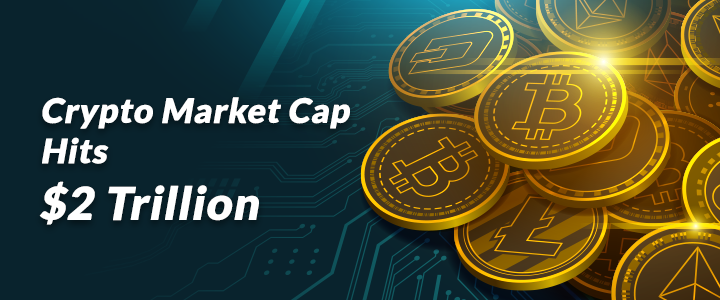 A comprehensive signal of buyers taking control, the total market capitalization of the cryptocurrency space hit $2 trillion last week. Bitcoin accounted for 44.5% of the overall market while ETH took 19.3%.
This recovery could be attributed to heavy institutional buying, rising interest among retail traders, and crypto and blockchain projects accumulating billions in funding. Bitcoin's latest rally has given impetus to altcoins like ADA to start going on a solid run upwards.