Bitcoin Breaks Out of Bullish Pattern, New All-time Highs Could Be on the Horizon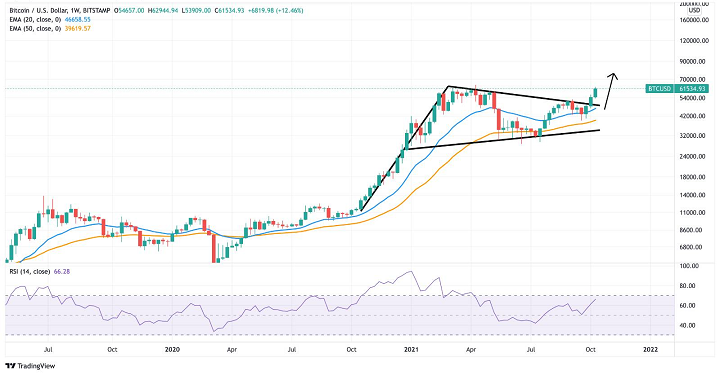 BTC broke out of a classic flag-and-pole pattern last week, boosting hopes of a rally to new all-time highs in coming weeks. Known as the "Bull Pennant", the pattern represents a period of consolidation following a distinct uptrend. The two converging trend lines in the image above represent the flag.
Bitcoin definitively broke out of the pattern last week. Now, if the pattern stays true, Bitcoin could be looking at a potential target equaling the size of the previous uptrend i.e. the pole in the pattern. This could see BTC cross $100,000 by December.
BTC reached its highest weekly close of all time at $61,500. This bodes well for Bitcoin as the year nears its end. Furthermore, highly positive ETF-related news is attracting a bevy of investors to the King of Crypto, and all signs look positive.
FUN Token Triples Its User Base in 2021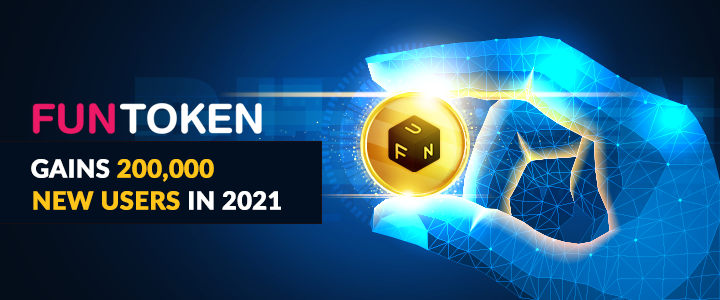 Last week, FUN Token reached a major milestone – the token crossed 200,000 new users gained in 2021, effectively tripling its user base in ten months. FreeBitco.in's acquisition of FUN Token in January followed by the appointment of the experienced FUN Token CEO Adriaan Brink set an exciting roadmap rolling, with an exclusive $FUN casino (DPLAY) and an upcoming Layer-2 token helping the company reach this milestone.
On September 30, FUN Token kicked off its deflationary blueprint with the first strategic token burn. The next part of the deflationary blueprint is XFUN, a new Layer-2 token on the Polygon network. At the moment, XFUN is in a testing phase on Polygon. Furthermore, the FUN/XFUN wallet and Ethereum-Polygon bridge are in active development.
Click here to learn more.
ETH Completes Inverse Head and Shoulders Pattern, Bulls in Control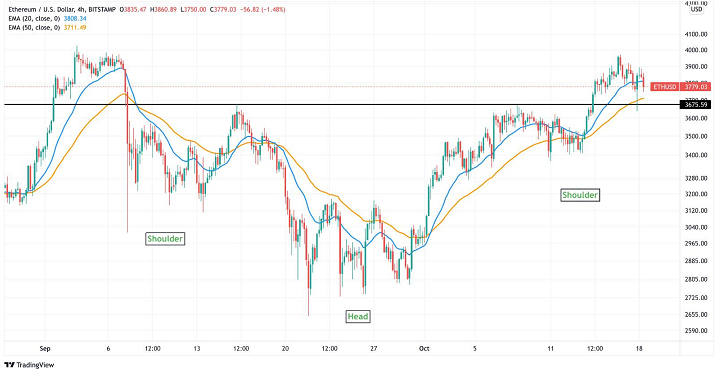 ETH completed an inverse head and shoulders pattern last week as it broke out and closed above the neckline that had been forming since mid-September. This indicates conviction in ETH as the second-largest crypto by market cap seeks to match Bitcoin's incredible run in October.
ETH faced psychological resistance near $4,000 and started dropping, however, significant buying pressure at the neckline ensured Ether stayed up. At the moment, the neckline is key for bulls who are trying to keep the price above 50 EMA. A bounce back from the neckline could see ETH retest $4,000. If it breaks through, we could see a rally to the all-time high or even further.
CRYPTO NEWS WEEKLY ROUNDUP:
Bakkt Announces Google Partnership, Set to Be Listed on the NYSE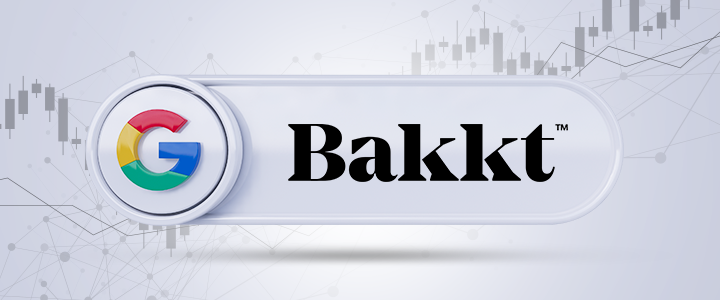 Last week, two key pieces of news regarding cryptocurrency exchange Bakkt emerged. Bakkt said that the company had partnered with Google to allow its users to purchase goods and services using Bitcoin and other cryptocurrencies through Google Pay.
Through this partnership, users that hold debit cards issued by Bakkt will be able to convert their crypto balances to make fiat payments using Google Pay. Google Pay is accepted by millions of retailers and would give Bakkt users a variety of avenues to spend their crypto.
Furthermore, starting October 18, Bakkt will be listed on the New York Stock Exchange (NYSE) under the symbols BKKT and BKKT WS. This listing has come as a result of Bakkt's merger with VPC Impact Acquisition Holdings. This combination has resulted in proceeds of $448 million to Bakkt which it plans to reinvest in growing the company's capabilities and partnerships.
ProShares Bitcoin ETF Set to Start Trading on the NYSE, Valkyrie ETF Moves Closer to Listing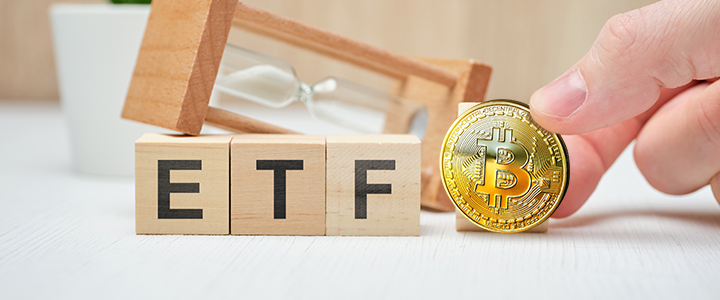 Starting Tuesday, October 19, ProShares' Bitcoin Strategy ETF will be listed on the New York Stock Exchange. According to a notice released by the SEC on October 15, the agency has accepted the registration of ProShares Trust's Bitcoin exchange-traded fund that offers exposure to BTC through futures contracts. It will be listed with the ticker BITO with 95 basis points.
Also last week, it became clear that Valkyrie's Bitcoin Strategy ETF could soon join ProShares on the NYSE after the asset management firm filed an 8-A with the SEC on Friday. These listings are going to precede discussions surrounding the approval of physical Bitcoin ETFs – those with actual BTC as their underlying asset. There should be more clarity in the coming weeks or months.