Bitcoin Flips $41,000 Resistance Amid Record Exchange Outflow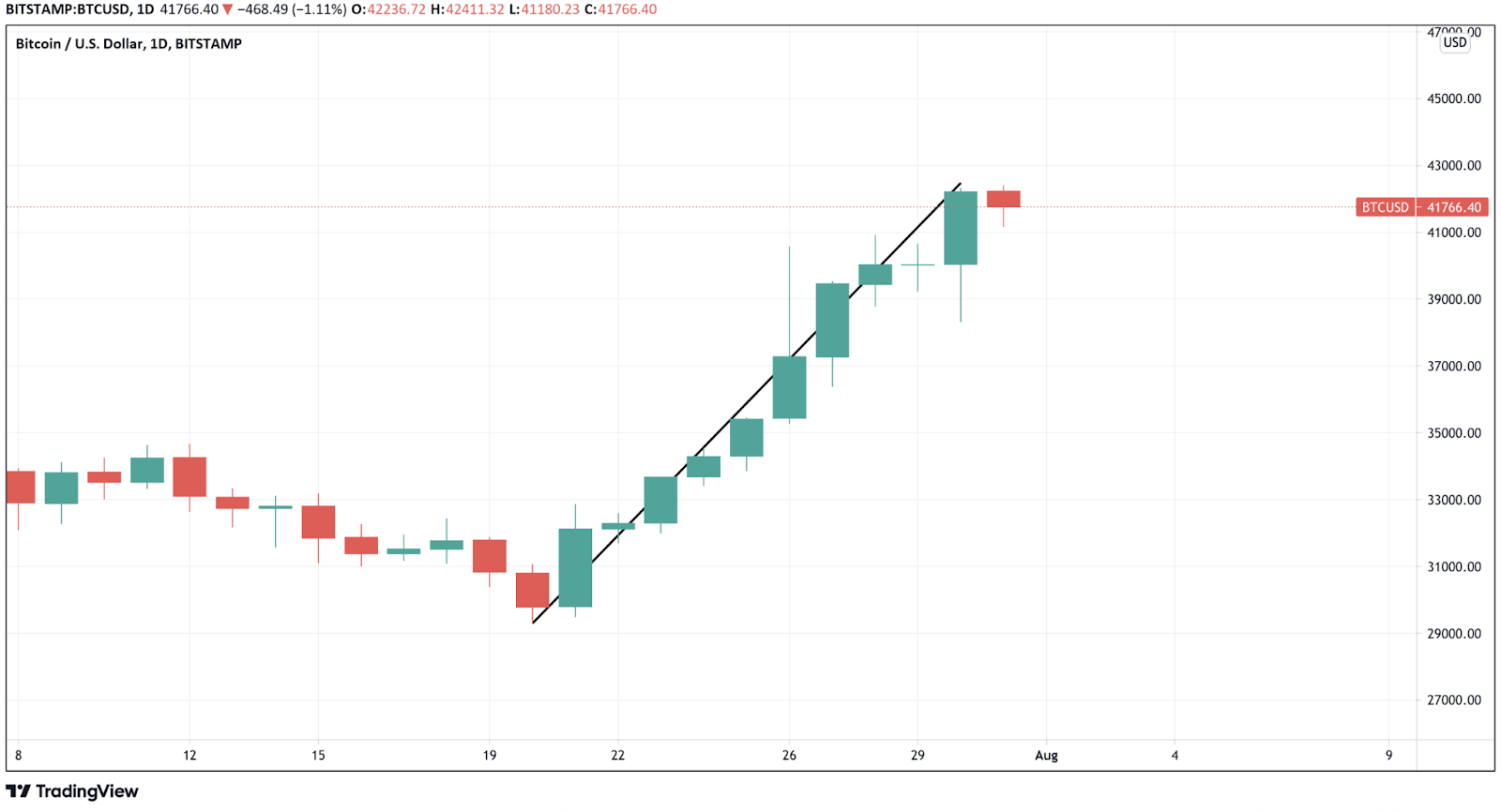 In positive news for traders, investors, and institutions alike, Bitcoin capitalized on 21st July's bounce back from $30,000 to rally by 20% last week, flipping the resistance at $41,000 as on-chain data displayed immense positivity.
The rally bottomed out near $38,800, worrying traders and igniting speculation over a possibility of massive profit booking as has become the norm in recent weeks. However, BTC held on marched on to $41,000. BTC trades at $41,600 at the time of writing.
On-chain data revealed large withdrawals from exchanges last Thursday as there was an outflow of 57,000 BTC in a matter of 24 hours. That was the highest one-day outflow in at least a year, signalling rising demand for BTC again. Exchange balances also returned to levels last seen in mid-May before Bitcoin started its correction. All in all, it looks good for BTC in the near-term.
Over 5.5 Billion FUN Traded in 4 Days


The $100,000 FUN Token Trading Competition kicked off what promises to be an exciting August for FUN Token with a host of important developments incoming. The sheer anticipation and enthusiasm was evident as over 5.5 Billion FUN Tokens were traded at Binance in just over 2 days.
The competition is open to all; new users can win a share of $20,000 and the total prize pool based on their trading volumes whereas existing users can lay claim to a share of the $80,000 in FUN Tokens, again, based on their trading volumes. Click here to start trading. Learn more about the competition here.
This is FUN Token and Binance's third collaboration in as many months. The last update came a month ago when FUN Token became one of only eight tokens to be listed for Locked Savings at Binance.
To date, a massive $1.4 million in FUN Tokens have been committed to Locked Savings at Binance while a further $0.78 million have been committed to Flexible Savings.
FUN Token CEO Adriaan Brink Announces Plans for New Layer-2 Token Pegged 1:1 With FUN


In an AMA conducted by Binance on 29th July, FUN Token CEO Adriaan Brink announced plans for a new token based on a Layer-2 blockchain. This token will be seamlessly integrated with FUN.
FUN Token was created to solve the issues related to operator escrow in online gambling operations.
When a user places a bet, their funds are moved into escrow until the outcomes are determined. Simultaneously, operators have to ensure sufficient funds are available to settle these bets. By moving operations to a blockchain, these logistical drawbacks are eradicated. However, when it came to FUN, there was an issue.
"Both FUN and BETR suffered tremendously with the rising price and latency of Ethereum transactions, so our first major tech release will be to deal with this issue," said Adriaan. "In the next 2 months we will release a new Layer-2 token on the Polygon/Matic network to leverage its high performance and low transaction fees."
FreeBitco.in sidestepped these challenges with a simple, off-chain use case in the Premium Membership program. However, to achieve true decentralization, transactions and gameplay have to be on-chain.
A token on the Polygon network will ensure low transaction fees and higher rate of transactions. This token is will be pegged 1:1 to FUN. Through association, this token will have exposure to 46 million FreeBitco.in users.
In a matter of months, FreeBitco.in has created over 167,000 new FUN Token users. These users will be brought on-chain with the launch of the L2 Token. Subsequently, a full-fledged, truly decentralized casino utilizing the L2 Token will be launched, and DPLAY will become a testbed for further development.
FUN Token Releases Statement Regarding Burn Strategy


Through a statement released on FunToken.io, FUN Token has outlined its token burn strategy.
"For all in-house operations such as the soon to be launched decentralized casino we will commit to burning no less than 50% of any profits after costs," said the statement. These in-house operations, of course, include both DPLAY and the upcoming Layer-2 decentralized casino.
These burns are set to take place on a quarterly basis with the first burn scheduled for the end of Q3 2021. Lay staking will also be introduced where users will be able to stake their tokens and earn a percentage of the profits earned.
Furthermore, in order to get their hands on the new L2 Token, FUN Token users will be required to escrow their tokens, thus reducing the coins in circulation. This would act as an effective burning program for FUN Token, further improving its value.