BTC Analysts Expect Choppy Movement Until the End of the Year, Potential Upside in 2022?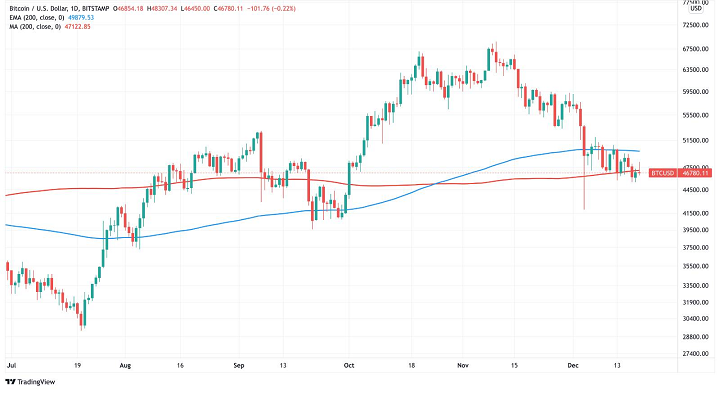 The current technical setup for Bitcoin saw it fall back below the 200-day EMA and then test the 200-day SMA. What's peculiar is that a similar pattern was seen following the major market pullback in May 2021 and we saw BTC oscillate for a couple of months before settling on a local bottom.
Another intriguing metric was the stablecoin transfer volume in May – there was a substantial spike in the volume of stablecoins transacted which seems to be repeating this month. Last week, it spiked to $57 billion on Dec. 14 and crossed $40 billion a couple of times, whereas the daily average had consistently been between $10 billion to $25 billion.
The existence of these similar factors indicates we could be in for a choppy couple of months or a few weeks at least.
However, there's a ton of positivity going into 2022. According to analysts, BTC could mimic the price action that followed the May pullback; Bitcoin could return to $44,000, then go back to the $48,000 – $51,000 range, consolidate, and then resume the uptrend. In the macro view, BTC's strength is still evident.
Over 700 Million FUN Locked for Savings at FreeBitco.in

Since the launch of FUNToken Savings at FreeBitco.in in August, over 700 million FUN have been locked by users at FreeBitco.in.
Users can lock their tokens for 15, 30, 90, 180, and 360 days and earn varied rates of interest (up to 25% APY) at FreeBitco.in. Users can lock as many tokens as they want; their total balance in locked savings will be considered when calculating Premium Benefits.
Since the commencement of FreeBitco.in's strategic partnership with FUNToken, the token has gained over 200,000 new users. With the XFUN wallet and truly decentralized casino set to be launched soon, the utility, ubiquity, and adoption of FUNToken is set to rise even further. Click here to learn more.
ETH Staked in Beacon Chain Keeps Rising Along With Trust and Demand for Eth2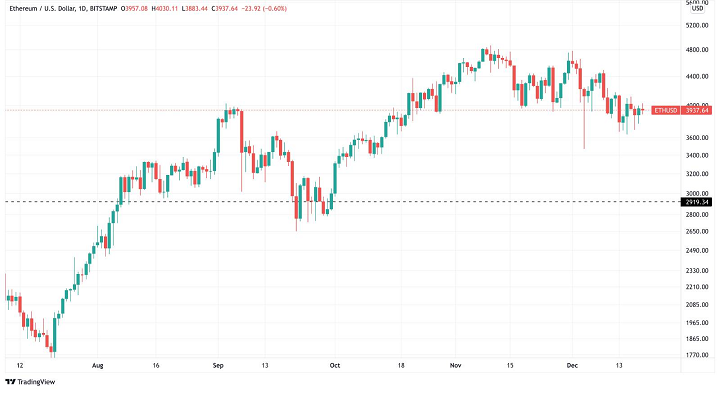 The Beacon Chain, the spine of Ethereum 2.0, was launched on December 1, 2020. It's the first major step in Ethereum's move from proof-of-work to proof-of-stake. At the moment, the Beacon Chain smart contract is the largest smart contract with around $34 billion "locked" in it.
Here's the kicker: the ETH in this smart contract can't be spent without a decisive hard fork. Furthermore, the terms of the hard fork are yet to be decided. People are sending money to the Beacon Chain being fully aware of this fact, showcasing the massive demand and trust in Eth2, which could potentially be realized in Q1 or Q2 2022.
CRYPTO NEWS WEEKLY ROUNDUP
IMF Chief Economist Calls for Global Policy to Regulate Cryptocurrency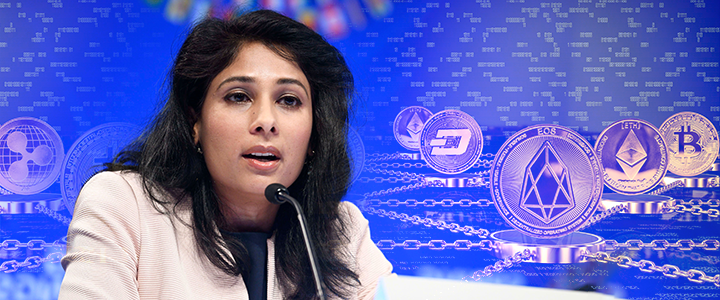 In a substantial impetus for the crypto space, the chief economist of the International Monetary Fund (IMF) called for a global policy to regulate cryptocurrency. Gita Gopinath, soon to be the deputy managing director of the IMF, argued that banning crypto would result in countries not having any control over offshore exchanges that lie outside the purview of the regulations of any particular country.
As the nations of the world contemplate how to regulate crypto, the chief economist's argument provides a unique perspective – a global framework that facilitates growth, integration, and transparency would be good for the crypto space.
Bitwise Makes Investing in NFTs More Accessible With NFT Index Fund

Institutional investors are now set to gain access to the burgeoning NFT space through Bitwise Asset Management's new index fund – the Bitwise Blue-Chip NFT Index Fund. This fund is designed to allow accredited investors to invest in major nonfungible tokens and art collections.
The NFT industry has exploded in 2021 and qualified investors can now avail of private placement subscriptions to the NFT Index Fund. Minimum investment is $25,000.
Bitwise chief information officer said, "New frontiers in art are rare. Entirely new artistic mediums are even rarer. NFTs have emerged as the first digitally native medium for owning art and collectibles, with enormous potential for meaning, value, and use in our increasingly digital world."