BTC Records Ninth Consecutive Red Week, Breaks Out of Tight Range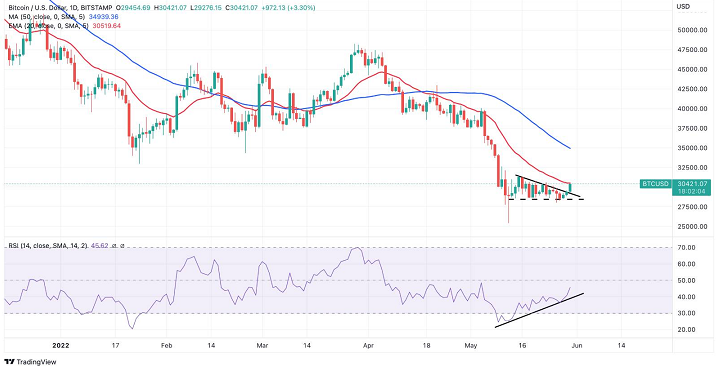 As the week came to a close, BTC set a new record 9-week losing streak, however, that seemed to be the end of it (until now, at least.) As you can see on the chart above, Bitcoin was stuck in a tight range for a couple of weeks, with the dotted line acting as support.
The positive divergence on the RSI suggested that bearish momentum could be weakening and potential upside could be around the corner. And that's what happened as the new week started.
Bitcoin has broken through the downtrend line and at the time of writing, trades around the $30,500 mark. The descending triangle pattern seems to have been negated and we could see a short squeeze in the near term.
At the moment, BTC is challenging the 20-SMA which has acted as strong resistance since April. A breakout above that could see Bitcoin make its way to the 50-SMA, which lies at $34,900 at the time of writing.
dPlay Adds New Video Slots, Introduces Cashback Promo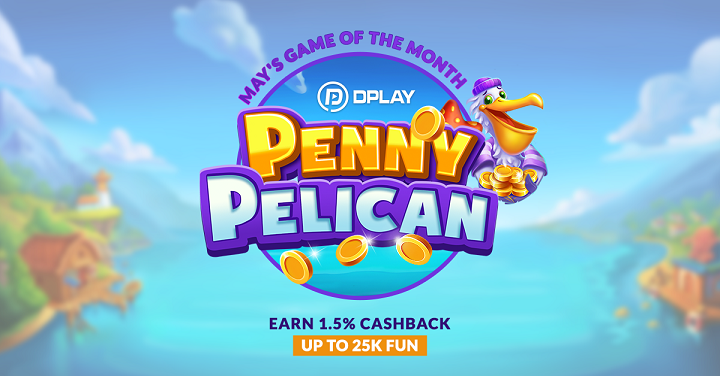 dPlay continued expanding its catalog last week, adding 5 new video slots to its ever-growing roster. These include games like Penny Pelican, Wild Cash, Foxy Wild Heart, West Town, and Deep Sea, all provided by BGAMING.
What's more – FreeBitco.in users can earn a 1.5% cashback on their total bets when they play Penny Pelican using FUNToken or XFUN. Maximum cashback: 25,000 FUN. This promo joins a list of cashback promos currently live at dPlay Casino including:
• Blackjack Cashback Weekends – 30% cashback on blackjack games, up to 21,000 FUN
• 0.77% Weekly Cashback on Roulette games, up to 50,000 FUN
• 0.88% Weekly Cashback on RNG games, up to 50,000 FUN
FreeBitco.in users can play at dPlay Casino using FUN and XFUN. Click here to connect your account to dPlay and enable seamless FUNToken deposits and withdrawals. You can also download the XFUN wallet for your device.
DOWNLOAD XFUN WALLET
CRYPTO NEWS WEEKLY ROUNDUP:
Terra 2.0 Launches, Tanks 70%
Last week, Do Kwon, co-founder and CEO of Terra, confirmed the relaunch of Terra's new chain – Terra 2.0. Kwon's plan involves hard forking the existing blockchain and airdropping LUNA tokens to investors that previously held Luna Classic, TerraUSD Classic, and Anchor Protocol UST.
Dubbed Phoenix-1, Terra 2.0 went live on Saturday and started producing blocks. Kwon announced that public node services, wallets, and explorers would follow the mainnet to go live soon after.
However, the failings of Terra 1.0 are still fresh in investors' memories. LUNA opened at $18.87 on Saturday and then tanked by 70% as investors dumped airdropped tokens, displaying little faith in the new ecosystem.
India's Central Bank Set to Roll Out CBDC Using a Graded Approach
In an annual report released last week, RBI – India's central bank – proposed a three-step graded approach for rolling out a CBDC "with little or no disruption" to the traditional financial system.
The RBI emphasized the need for the CBDC to conform to India's objectives related to "monetary policy, financial stability and efficient operations of currency and payment systems."
To that end, RBI is exploring the various design elements of a CBDC that can co-exist within the existing fiat system. At the moment, RBI is in the process of verifying the feasibility and functionality of launching a CBDC.