BTC Breaks Through $43,000 Amid Multiple Bullish Signals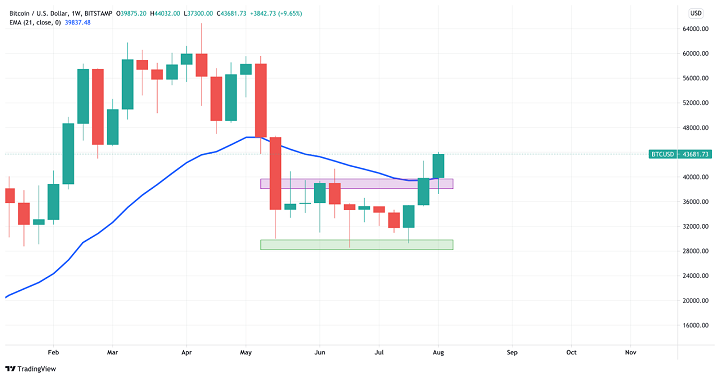 After bouncing back from $30,000 a couple of weeks ago, BTC hasn't looked back. Last week, Bitcoin broke out of its multi-month range and rallied to a high of $43,700 for the first time since May. In our last newsletter, we saw that there had been an outflow of 57,000 BTC from exchanges in a matter of 24 hours on 29th July. That was the highest one-day outflow in at least a year, signaling rising demand for BTC again.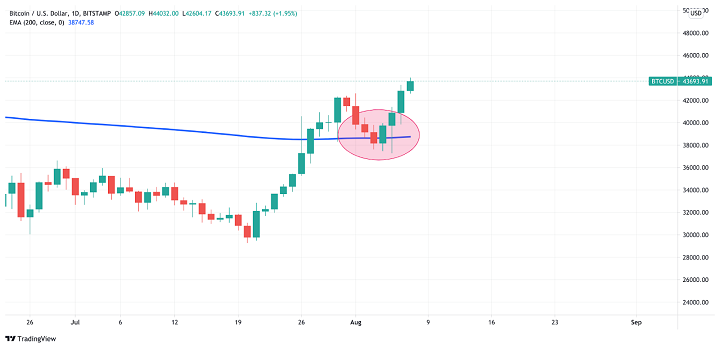 On the technical analysis front, as we saw on the charts above, BTC has claimed both the 21-week EMA and the 200-day EMA as support. The 200-day EMA has always acted as a measure of long-term investor sentiment while the 21-week EMA is the prevalent bull market indicator. Overall, the market seems to be getting bullish.
FreeBitco.in Launches FUN Token Savings: Over 100 Million FUN Locked Within Hours
A few weeks ago, Binance added FUN Token to its Locked Savings Program, allowing holders to earn interest on their FUN Tokens. Now, FreeBitco.in users with FUN Tokens can earn interest directly at FreeBitco.in.
On 6th August, FreeBitco.in launched FUN Token Savings where users can lock their tokens for 15, 30, 90, 180, and 360 days and earn varied rates of interest. As a special launch promotion, users can earn 45% APY for a 15-day lock-in until 15th August.
Furthermore, locking FUN Tokens won't affect benefits earned through the Premium Membership program. Users can lock as many tokens as they want; their total balance in locked savings will be considered when calculating Premium Benefits.
Within hours of launch, FreeBitco.in users locked over 100 million FUN Tokens in the savings program. This signals confidence in FUN Token as the organization prepares to launch a host of developments including a new Layer-2 Token, a custodial casino and truly decentralized casino, and a strategic token burning program.
Ethereum London Hard Fork Goes Live, ETH Blasts Through $3,000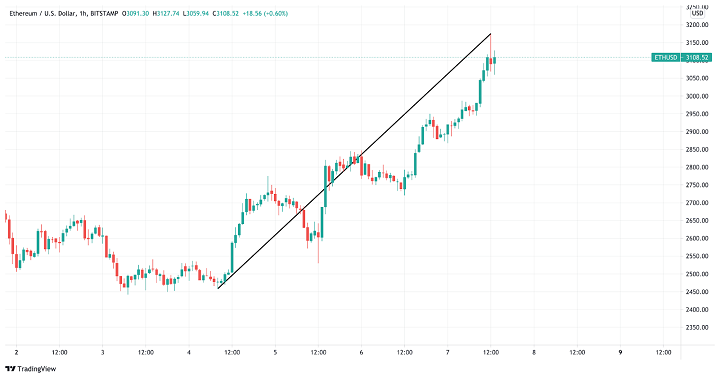 On Thursday, 5th August, Ethereum's London Hard Fork finally went live. The upgrade brought in the EIP-1559 protocol which is a mechanism for gas fee adjustment on the Ethereum mainnet. Under EIP-1559, each transaction on Ethereum will involve burning the base fee, which automatically decreases the ETH circulating supply.
Since the upgrade went live, over 9,000 ETH have been burned already with a burn rate of 3.82 ETH/min. At this rate, over 2 million ETH are projected to be burned in 2021. Following this news and Bitcoin's surge to $43,000, ETH burst through $3,000 last week amid bullish market signals.
Crypto News Weekly Roundup:
Spanish Lawmakers Introduce Bill to Enable Mortgage and Insurance Payments in Crypto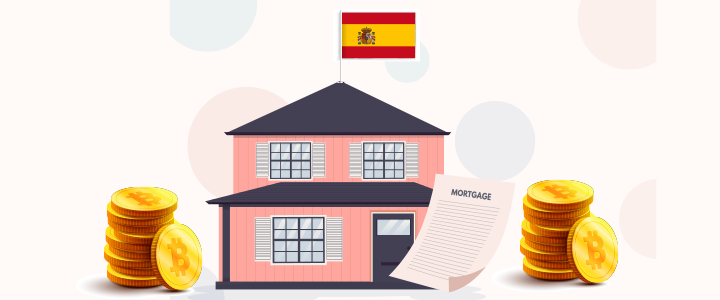 Crypto got another shot of legitimacy and credibility last week as Spanish lawmakers introduced a bill to legalize the usage of cryptocurrency and blockchain tech for mortgage and insurance purposes. This would allow property owners in Spain to pay their mortgages with cryptocurrency. This would also allow the real estate sector to use their own cryptocurrency for mortgage purchases.
This bill also seeks to provide incentive to innovators in the blockchain industry. These incentives include major tax breaks and a 90% reduction on patent registration fees.
JP Morgan Offers Its Clients Access to Six Crypto Funds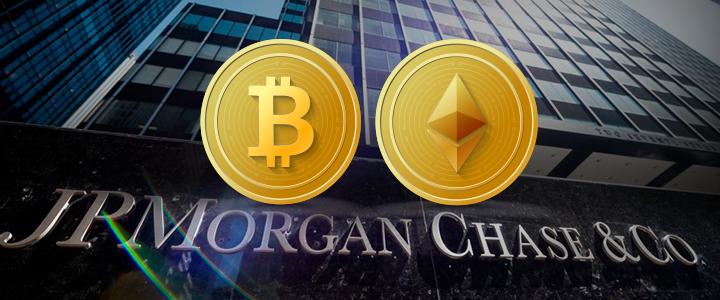 In an effort to offer crypto exposure to a host of clients, JP Morgan has opened up access to six crypto funds over the past three weeks. The latest fund to be available for clients is a new Bitcoin fund created by crypto investment firm New York Digital Investment Group (NYDIG).
Additionally, JP Morgan has also offered access to five other crypto funds: Grayscale Investments' Grayscale Bitcoin Trust, Bitcoin Cash Trust, Ethereum Trust and Ethereum Classic Trust, as well as the Osprey Bitcoin Trust.