BTC Drops to Six-Month Low But Records All-time High Network Difficulty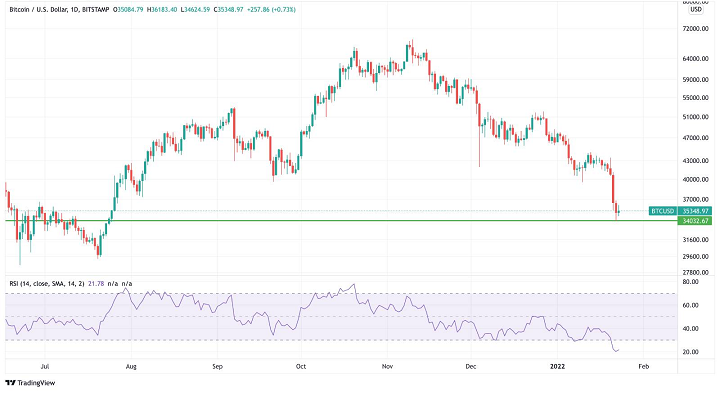 Last week, BTC continued its fall, dropping to a six-month low of $34,000. This level is 50% down from BTC's all-time high of $69,000 and the fall had a knock-on effect on altcoin prices and DeFi tokens in general.
However, on a technical and fundamental level, there's plenty to be positive about. Bitcoin's Relative Strength Index (RSI) dipped to its lowest level since March 2020, well below the "oversold" zone. Meanwhile, Bitcoin's total market cap finds itself at the next major level of support.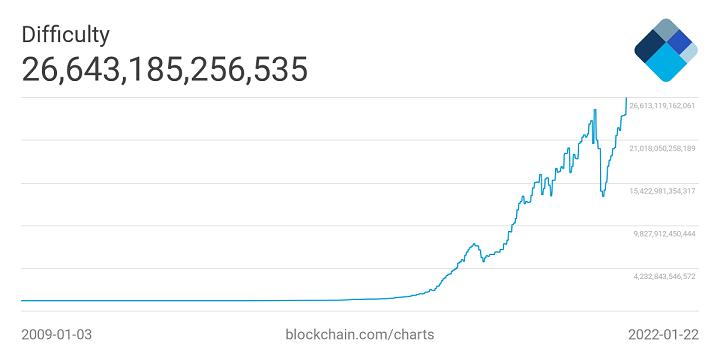 Fundamentally, BTC recorded a new all-time high mining difficulty of 26.643 trillion with an average hash rate of 190.71 exahashes per second. This signals strong support in the Bitcoin community despite the ongoing bear market. According to data from BTC.com, the Bitcoin network is set to grow stronger in the next 12 days, consequently achieving another all-time high.
Q1 2022 Set for Comprehensive XFUN Rollout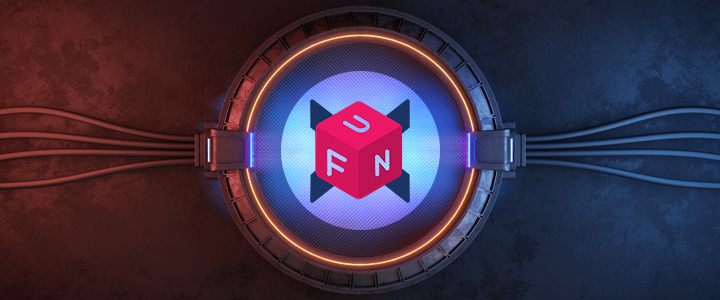 On Jan 12, the FUNToken team released a revised roadmap for 2022 that covered new developments and upgrades to the ecosystem. FUNToken is set to kick off the year with Q1 2022 that includes a comprehensive rollout of XFUN – FUNToken's Polygon counterpart.
XFUN will start being used in production which will be followed by the release of the XFUN/FUN Bridge that will provide seamless exchange between FUN and XFUN. To facilitate this, non-custodial XFUN wallets for iOS and Android will be released on their respective app stores.
Subsequently, dPlay will add XFUN as a payment method and new XFUN casino with more games and features will be launched to round off the first quarter. Click here to see what CEO Adriaan Brink had to say about FUNToken's potential in 2022.
ETH Drops to $2,350 As Key Metric Hits Six-Month Low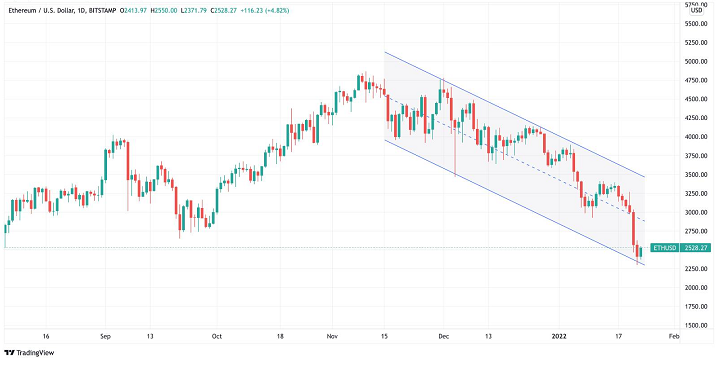 ETH has been in a downtrend since November and on Jan 20, it broke through the $3,000 support, dropping to $2,300 (55% down from its all-time high.) Besides the broader market trend, Ethereum has its fair share of issues – the current $40 and higher transaction fees, the status of the ETH2.0 upgrade, and the TVL of the network dropping by 17% since its peak.
Another key metric puts Ether at the risk of turning bearish; quarterly futures contracts premiums have come down from 20% on October 21 to 5.5%. The basis (the price difference between the futures price and the spot price,) while still positive, has reached its lowest level in six months.
CRYPTO NEWS WEEKLY ROUNDUP:
Worldwide Crypto Users to Reach 1 Billion by 2023 According to Crypto.com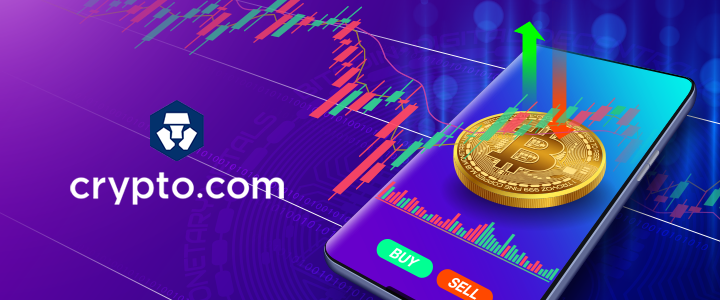 Even with the crypto market in turmoil, the outlook for growth looks promising. Crypto.com released a report last week that predicts global crypto users could reach one billion by the end of 2022.
In 2021, the global crypto population increased by 178%, rising from 106 million in January to 295 million in December. The report believes that more developing nations could be looking to imitate El Salvador in 2022 and "friendlier" approaches to crypto could see a surge in users this year.
Microsoft to Enter the Metaverse With $68.7 Billion Activision Acquisition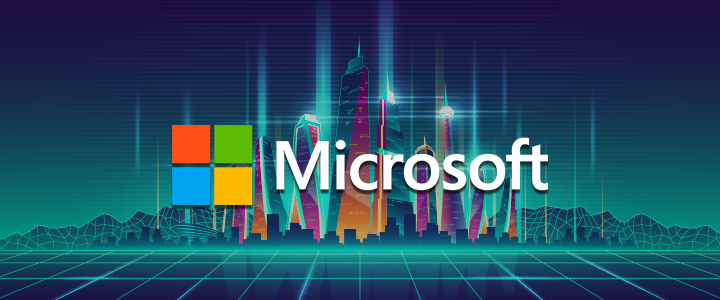 Microsoft is the latest conglomerate to potentially enter the Metaverse. The world's second-largest company by market cap announced last week that it is acquiring gaming giant Activision Blizzard for $95 per share at a valuation of $68.7 billion, with the deal slated to close in the 2023 fiscal year.
Microsoft intends to utilize the gaming giant's infrastructure to enter the Metaverse. Satya Nadella, CEO of Microsoft, said, "Gaming is the most dynamic and exciting category in entertainment across all platforms today and will play a key role in the development of metaverse platforms."